TeamSafer UI
TEXTL8R (2013–2015)
| | |
| --- | --- |
| Deliverables | Wireframes, mockups, presentations, styled iOS UI, styled Android UI, styled desktop UI |
| Activities | Information design, software development, client relationship management |
| Tools | Illustrator, Photoshop, Visio, Excel, Keynote, pen and paper |
| Client | Iowa Department of Transportation |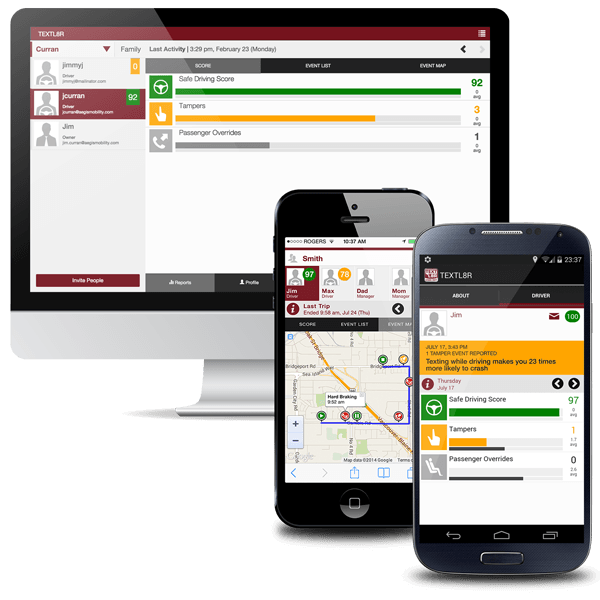 The Iowa Department of Transportation (Iowa DOT) sought a new Iowa DOT-branded mobile application intended to monitor the driving habits of Iowa teen drivers. The app was to "leverage the capabilities of the smartphone to block incoming calls and texts while the phone is in motion, monitor phone speed as compared to posted speed limits, and upload completed trips for later viewing in a parent portal." The parent portal was "to establish a record of the teen drivers' performance and behavior while driving and to allow the trip results to be reviewed by parents."
Aegis put forth a proposal and in fall 2013 we were awarded the contract to create and deliver the TEXTL8R app. TEXTL8R became my primary focus, and I represented the Aegis development organization throughout our relationship, from conception through development and testing up to handoff to the Aegis support organization when the production client was ready.
TEXTL8R was released to Iowa DOT in early 2015 for rollout.
Tap or click an image to view a larger version with caption. Use the arrows to advance.